Case
Join the flip side: understanding the mobile lifestyle and mindset
How online community & segmentation insights helped Samsung keep up with evolving consumer needs and uncover opportunities to strengthen their position.
How it started
The mobile landscape in the Philippines is more competitive than ever, with Samsung being challenged by more affordable brands. To continue to design a relevant proposition and targeted marketing campaigns, Samsung Philippines wanted a better understanding of smartphone users, across generations and in every price tier.
How we inspired change
We set up two projects – one focusing on Gen Z, and another on mobile price tiers – both using a three-layered approach:​
Online community:

we invited 120 consumers (100 of whom Gen Z) to 

participate in a series of activities (2 weeks per project). This provided 

Samsung a glimpse of their lifestyle, the role of the smartphone in their lives, 

their habits and shopping journeys.

​

Online focus groups:

we ran different online discussion groups to deep dive 

into their habits and shopping journey, which helped understand the hybrid 

shopping attitude and identify different personas.

​

Online survey: 

We validated our learnings using two surveys (total n=1,617) 

This resulted in a segmentation based on distinct motivators and habits 

towards the category and uncovered key drivers for buying a smartphone, 

purchase influencers and opportunity spaces.
How it lives on
The insights inspired the team to touch on the emotional triggers of their flagship phone, specifically the Flip model. An example is the 'Samsung Galaxy: Join the flip side' campaign launched in September 2022, targeting users of competitor brands with strong brand love and loyalty. The learning also encouraged the brand to highlight the balance of functional and emotional benefits of the Samsung smartphone across price tiers.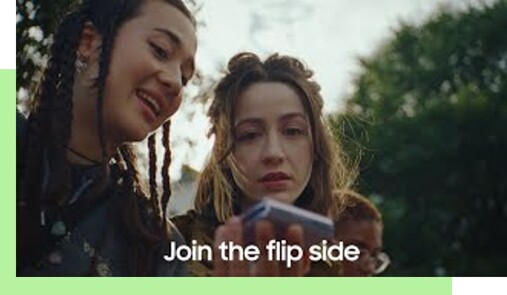 "Human8 has been a reliable partner for digital-led insight generation. We generated a deep understanding of the mobile consumers' lifestyle, mindset, and behavior. All these were translated into local campaigns and activations that cut across online and offline channels of Samsung PH."
Let's connect
Join the flip side