Collaborating with the right consumers at the right time to fuel the innovation funnel
By tapping into the power of diverse consumers via an iterative innovation approach, Fanta gathered 140 raw ideas that led to 21 consumer validated concepts.
How it started
Soft-drink brand Fanta needed fresh inspiration to fill its innovation funnel, with a strong focus on disruptive innovation, and this targeted at its core audience: teens. Two key areas were put forward to explore: 'Sensory Pleasure', which is all about new and exciting taste experiences, and 'Collective Fun', which revolves around product/ packaging concepts to drive fun and sociability.
How we inspired change
To address this challenge, we used a four-step innovation approach:
Nextgen immersion: we started by exploring the world of teens via secondary research, fueled by our in-house thought leadership on NextGen.
Internal and external creative crowdsourcing: the insights from this first phase were shared with our proprietary creator network eÿeka, in a global ideation contest. The brief: "Create a new Fanta drink for teens that will offer a new taste and a fun experience". The eÿeka creators shared 112 unique, out-of-the-box ideas. We also involved Fanta's internal stakeholders – they delivered 28 ideas, leading to a total pool of 140 ideas.
From idea to concept: after a first selection based on their disruptive nature, brand fit and uniqueness, 54 of the initial ideas were used in a two-day ideation and concept-writing workshop with the Fanta team.

On day one, the team explored, clustered and polished the ideas.
The second day, the ideas were transformed into 14 concepts, with clear benefits and reasons to believe. A sketcher immediately visualized how the products might look. Fanta's internal stakeholders further elaborated on these concepts, which resulted in 21 concepts that were ready for evaluation by everyday consumers.

Concept evaluation: in a final step, 172 teens from two of Fanta's target markets (Poland and Romania) were invited to evaluate and further fine-tune the ideas in the Fanta Tournament Square, an online consumer community.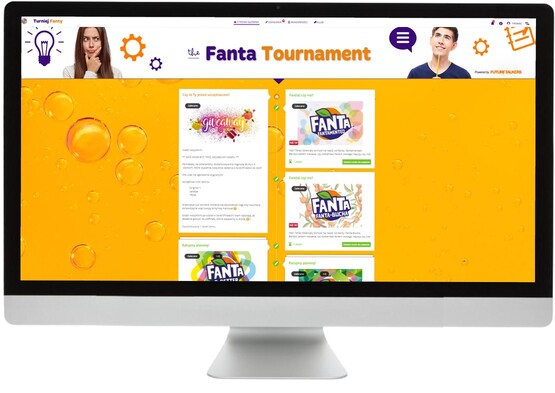 How it lives on
By embracing an iterative innovation approach, including the power of internal and external crowds on different levels, Fanta was able to fuel their innovation funnel. In merely 10 weeks' time, we went from immersion to out-of-the box concepts, validated by teens, their core target group.
"I was amazed by the speed and creativity of the eÿeka community. Within two weeks, the eÿeka community provided us with more than 110 ideas responding to the brief we sent them. The ideas were all well detailed. Out of the 110 ideas, we selected 54 to present to our stakeholders to further evolve them. I found this process very efficient, and I would recommend it."
Ready to do what matters?