Case
Looking for inspiration at the edges to develop 'experiential snacking' solutions
How teaming up with leading-edge change-makers, looking for emergent semiotic codes at the edge, and getting inspired by an edgy crowd of global creatives drives human-centric innovation.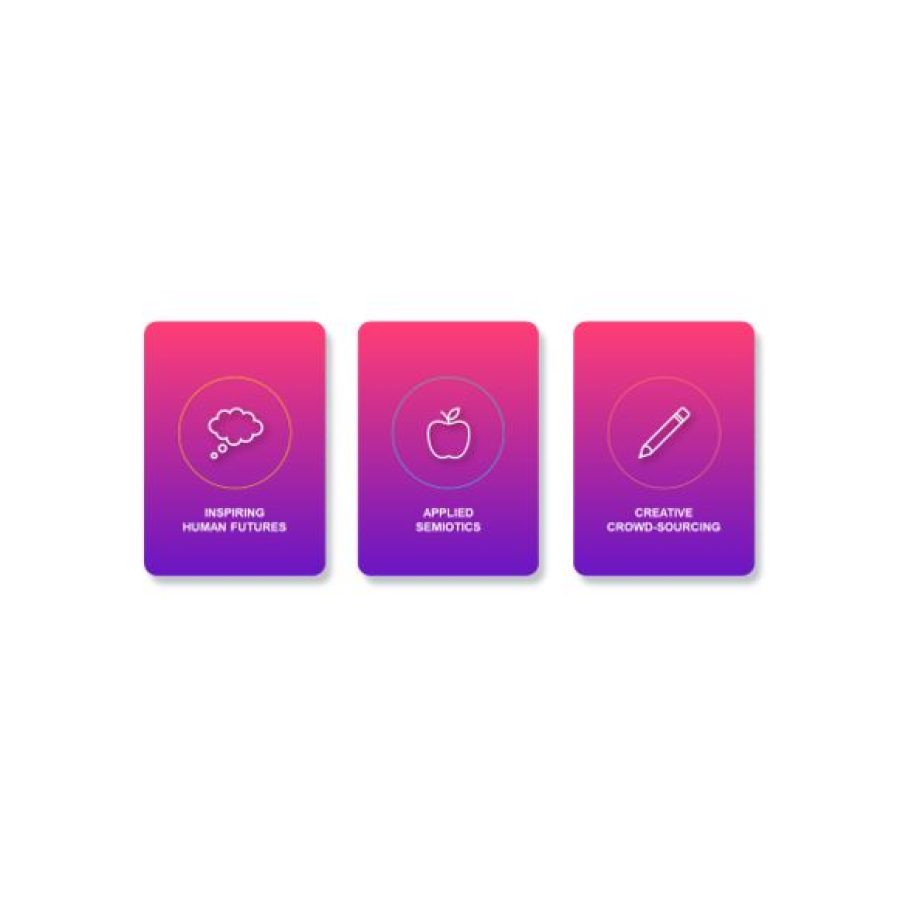 How it started
Mars Wrigley, the world's leading manufacturer of confectionery, has ambitious goals to 'deliver better moments that make the world smile'. To do so, the company is shifting from a product-centric innovation focus to delivering holistic 'experiential snacking' solutions.
To realise the full benefit of this vision, Mars Wrigley is deliberately designing engaging experiences, where they prioritised nine future innovation territories that will help the brands extend into new moments and deliver 'experiential snacking' solutions. These include wellness solutions that cover both physical and emotional dimensions. Three of those territories needed deeper human learning.
How we inspired change
To successfully unpack the three territories and inspire fresh thinking, we designed a phased approach:
Inspiring human futures: in a first sprint, we collaborated with 'Illumes', our network of leading-edge changemakers. They identified key cultural shifts and emerging trends within each territory. This was then combined with a unique blend of other inputs and strategic-thinking frameworks by our expert culture & trends analysts. The result of this first sprint identified and mapped the signs of change in the territory, evidenced with manifestations of change, key facts and statistics.
Applied semiotics: the second sprint was all about going deep in the prioritised spaces via semiotics, or 'the study of signs and symbols'. By decoding key opportunity spaces with our semioticians, we generated actionable inspiration – visualised in provocative inspiration boards — to feed into brand strategy and product development.
Creative crowdsourcing: the third sprint was centered around a creative-crowdsourcing contest to generate out-of-the-box solutions for each territory. We tapped into eÿeka, Human8's creative crowdsourcing network, to support Mars Wrigley in their creative challenges. We launched global ideation contests for the territories to collect fresh inspiration on how the problems could be solved, which resulted in over 50 concepts per challenge. Once the competition completed, the ideas were iterated and posted on an online platform for Mars Wrigley stakeholders to vote and build on. This resulted in the final selection of winners, and inspiration for further concepting.
How it lives on
The study fuelled Mars Wrigley to have more meaningful human-centric conversations about well-being, and how to build innovative solutions that can contribute more positively to the world. The output from the three sprints will fuel Mars Wrigley's innovation pipeline for the next three to five years.
Five projects were generated, pitched, and approved by their Enterprise Innovation Counsel. In addition, within the emotional wellness space, they discovered four opportunity spaces ripe for exploration within the snacking and treats space that helped us frame a new experiential snacking platform that will be a key focus for the brand.
This human-centric innovation approach has been presented at the ESOMAR Congress 2022 in Toronto, inspiring insights professionals and brands.
"This was quite a new and exciting way of working for us, and we learnt a lot as a team along the way. Armed with these new layers of human intelligence from our consumers on the edge, we are now having more meaningful human-centric conversations about well-being, and how to build innovative solutions that can contribute more positively to the world."
Let's connect
Ready to do what matters?