Blog
Green finance: not just a trend
How financial institutions are harnessing the power of finance to promote sustainable practices in Hong Kong and around the globe.
Green finance is a growing trend around the world and especially in Hong Kong (from where I am writing this article), which is driven by a renewed appreciation for nature's connection with human wellbeing and the growing recognition of the need to invest in the planet for a better and safer future. So, how are financial institutions harnessing the power of finance to promote sustainable practices?
Are we at a tipping point
This year, Earth Overshoot Day falls on July 28, marking the average date countries exhaust ecological resources Earth regenerates within the year. If the world's population lived like USA or China, Earth Overshoot Day would fall on March 13 and June 1. If we live like Qatar or Jamaica on both ends of the spectrum, we would overdraw on February 10 and December 20. If we continue to live as we do, Pulitzer Prize-winning science writer Elizabeth Kolbert puts aptly, 'at some point during all the 'blah, blah, blah-ing'…climate change ceased to be a prospective problem and became a clear and present one.'
Around the world, people begin to feel the gravity of global climate change. Following the latest Intergovernmental Panel on Climate Change (IPCC) report in March which confirmed human activities are driving climate change and devastating consequences. Living confined at our homes during Covid brought newfound appreciation for nature. In Hong Kong, some of us who went hiking and camping have rediscovered what we took for granted in this crowded concrete maze.
We have people on our side
In our Gen Z study 2022 conducted globally with 12,365 people, we found 49% of consumers finds it important that brands have a low ecological footprint, 48% of consumers wants brands to give back to society and 64% believes brands need to create products and services that limit the usage of the planet's natural resources. And this is also visible in financial products. Investors are looking for ways to invest their money in a way that aligns with their values and supports sustainable practices. Green finance provides an avenue for people to do just that by allowing them to invest in projects that have a positive impact on the environment. However, the lack of common governing frameworks to help investors identify sustainable projects to make informed investment decisions could easily lead to greenwashing labels. Green finance ecosystem is expanding rapidly around the world and Hong Kong is also undergoing a significant transformation in terms of its approach to sustainability.
Infrastructure as a helping hand
Government infrastructure is necessary for green finance development to help create a well-regulated financial environment, encourage investment in environmentally sustainable projects and technologies. Hong Kong, as an example, is putting significant effort into becoming a global centre for sustainable finance and green technology. This effort includes the creation of a Green and Sustainable Finance Grant Scheme to support the development of green finance products and services, which is part of a larger push to establish Hong Kong as a leader in the multi-trillion-dollar green finance market. The city is already making progress towards this goal, with the growth of the world's first tokenised green bonds with blockchain and carbon credit trading solidifying its position as Asia's sustainable finance centre. Additionally, Hong Kong's Budget 2023-24 includes launching green city projects with more new energy public transportation and revamping a $6.4 billion loan scheme to support all taxis going electric.
Investing in our planet
This year's Earth Day theme 'Invest in Our Planet' is designed to persuade businesses, governments, and people around the world of the need to 'invest' in our planet, and perhaps we should take this literally. The huge capital deployment needed for accelerated climate action ahead will require a new era of transformation from the financial industry.
Financial institutions are taking actions to drive innovation, reduce waste and resource use by promoting more resilient, sustainable and inclusive economic growth as we see more and more green initiatives like consumer payment with automated carbon accounting, green AI investment platforms or environment risk analysis for insurance. New commodities which pioneer in harnessing the power of finance could be the first step in driving meaningful change. HSBC, for example, introduced the first biodiversity screened fund for investors to build biodiversity 'risk' aware considerations into portfolios. The HSBC World ESG Biodiversity Screened Equity UCITS ETF compromises 500 companies by applying three exclusionary filters to ensure the portfolio carries stronger credentials.
With the help of digital technology, companies can improve their ESG reporting and fight climate change. Automation and AI can help companies collect, process, and analyse data more efficiently, leading to better ESG reporting and decision-making. Tapping into the fintech sector, Alibaba launched "Low Carbon Supplier Management System" to encourage low-carbon practices among its suppliers. The tool enables suppliers to track their carbon emissions and identify opportunities to reduce their carbon footprint. They also launched a carbon ledger for consumers, promoting greener lifestyles such as buying energy-efficient appliances, recycling boxes, and declining disposable utensils. In turn, they reward consumers with points to earn shopping discounts on Taobao. By encouraging regenerative practices from supply chain to end users, Alibaba aims to support China's goal of achieving carbon neutrality by 2060, thereby creating a ripple effect, with consumers becoming more aware of the need to seek out green finance options.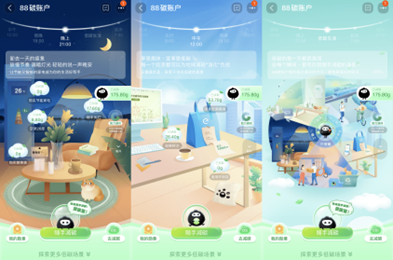 Let's connect
Ready to do what matters?